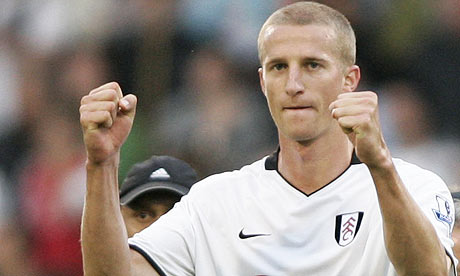 The only mystery surrounding Brede Hangeland is why a 'big club' haven't been beating down Fulham's door to sign him. Tall, physically strong, rarely beaten in the air or the on floor, composed on the ball and with a decent turn of pace, the commanding Norwegian centre half has got it all. Since being plucked out of the Danish Superliga by Roy Hodgson, Hangeland has been one of the most consistent defenders in the top flight – and perhaps the crucial factor in turning Fulham's fortunes around.
Hangeland gave a complete demonstration of his prowess at Loftus Road. There were more than a few worries about the prospect of a fired-up Bobby Zamora doing some serious damage to his former club before the game. As it transpired, all those concerns were misplaced. Hangeland completely dominated Zamora in the air and when the ball bounced threateningly towards him in the penalty area, he was there to mop up the danger in his usual understated manner. Only once did the QPR striker get a clear sight of goal and, even then, Mark Schwarzer produced a brilliant block from point blank range.
Perhaps the most important part of the modern defender's game is to know when to go to ground. With referees persuaded to give penalties for the slightest touch these days, diving in can be very costly. Hangeland rarely rushes to make a tackle, preferring to jockey a forward away from goal. It was noticeable yesterday how many times he was happy to shepherd an attacker away from danger – even out to the channels – and his peerless positioning offers him a great opportunity to read the game.
Hodgson used to play Hangeland in midfield at FC Copenhagen and, with his almost effortless distribution, you can see why. His comfort on the ball means he rarely wastes a pass and frequently starts attacks. Indeed, it is this ability with the ball at his feet – shared by most of the current back four and Philippe Senderos – that has orchestrated the change in Fulham's style. Under Martin Jol, the side are much more likely to play the ball out from the back, with two fine distributors in Danny Murphy and Moussa Dembele offering an out ball immediately in front of the defence.
Hangeland was joined at the back by Aaron Hughes again yesterday – something of a surprising selection given that Senderos was available again after injury. The Swiss defender hasn't really put a foot wrong since becoming a regular in the side but Hughes, whose partnership with Hangeland at the heart of the defence has been first class for the past three and a half years, was unlucky to lose his place at the start of the season. The Northern Ireland international, perhaps preferred because of his familiarity with Zamora's style of play, looked as though he had returned to his best form.
All of this solidity helped Fulham record their first clean sheet in ten games and, of course, pick up their second away win of the season. More than a few Fulham fans will have walked away contently from Loftus Road afterwards thankful that others haven't spotted Hangeland's consistent quality.