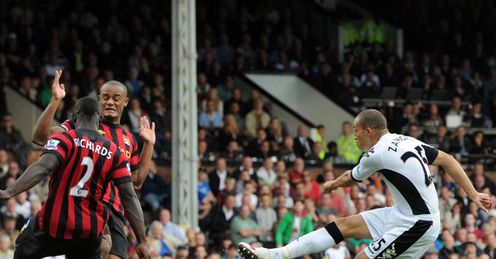 Bobby Zamora has played down the extent of his ankle problem but remains happy to be rested by Martin Jol in order to maximise his effectiveness.
The Fulham striker has been troubled by stiffness in his ankle joint in recent weeks and a broken leg reduced his availability for Mark Hughes last season. Zamora remains integral to Fulham's chances both domestically and in Europe – something illustrated by the fact that the Whites have lost all three matches that he's missed this season.
Zamora, who has scored twice in successive Premier League games, was also only used as a substitute against FC Twente in Fulham's opening Europa League group game and looks set to be rested for Wednesday's local derby at Chelsea in the Carling Cup.
In terms of my ankle, I'd rather rest to be honest. Obviously, I want to play. The European nights are nice but, at the minute, we want to get points in the Premier League. The gaffer said, 'We'll rest you for this one', so I can come on or whatever.

It's stiffness more than anything in the ankle joint but we're working on getting it looser after the injury. It's still a little bit niggly but I'm trying to keep on top of it.

Hopefully, I can get 100 per cent fit and carry on. It's just a disruptive injury that I had last year, this year, that flared up a little bit