This afternoon marks the Fulham faithful's first chance to see what Marco Silva is all about at close quarters. There's been plenty of discussion since the Portuguese head coach's appointment about his preferred systems and how they might dovetail with the resources at his disposal, but all the summer planning has taken place behind closed doors to date. A London derby with League One Charlton Athletic in front of fans at Craven Cottage will give us our first glimpse of Silva's new charges and an early indication of what to expect this season.
Since the confirmation that Silva would succeed Scott Parker in the Cottage hot seat, there's been the return of something approaching a feelgood factor – something only intensified by swift moves in the transfer market, which mark a departure from previous seasons. I have may be caught up in the frenzy myself, tipping the Whites to win the Championship, in the new football predictions game, Leagues Apart, a lockdown project from two Fulham fans.
There are solid grounds for optimism that go beyond blind faith though. Silva has previously led a side from the second tier into the top flight, when he revived the fortunes of Estoril in his first managerial job – and went on to guide them to European football. The attractive style Silva favours stands in stark contrast to the slow and slovenly football under Parker and, if he follows the blueprint implemented at his previous clubs, the new boss will demand high and frequent pressing, with a swift transition from defence to attack with vertical possession producing pacey attacks.
When he was with Watford, Silva switched between a 4-3-3 formation and the 4-2-3-1 depending on the opposition. He may well do something similar at Craven Cottage – especially given the volatility of the Championship – and the main point of difference will be how to deploy Fulham's key creative force. That won't be Tom Cairney for the first few weeks of the season at last, but it could yet be young Fabio Carvalho, who has seen plenty of game time during pre-season.
At Vicarage Road, Tom Cleverley was either deployed on the right of a midfield trio in a 4-3-3 and given license to float into the space ahead or as a traditional number ten. That afforded the Hornets more defensive durability and it was interesting that Silva selected Cleverly for such a role ahead of Roberto Pereira even though the Argentine was a far better passer. Cleverley got the nod because of his tigerish tackling and boundless energy, which suggests Harrison Reed could quickly become a Silva favourite.
The rest of his Watford midfield saw two box-to-box midfielders in the shape of Abdoulaye Doucoure and Ettiene Capoue paired together, with Nat Chalobah rotated into the starting line-up every so often. Silva's central midfielders were instructed to hit long passes, drive towards the area – both with and without the ball – and not be afraid to strike from distance. That attacking license was married with a commitment to winning the ball back and cover plenty of ground, allowing the more creative elements in the Watford side to come to the fore.
Silva's midfield set up at Goodison Park, after his acrimonious decamping to Merseyside, was modelled on the same principles. Idrissa Gueye and Morgan Schneiderlein were the shuttling central midfielders and you would assume that Fulham will operate with a double pivot that sits deep in possession before making late runs to support an attack out wide, with the number ten acting as the prompt for swift switches of play from flank to flank.
Up front, Silva's sides have regularly utilised a target man, whose disruptive qualities could afford create more room for the wide men to roam infield. Cenk Tosun would regularly drop deep to suck defenders higher up the pitch, creating the space for the likes of Richarlison and Theo Walcott to exploit effectively. A second plan saw Tosun making a succession of horizontal runs across the area, opening up space for the number ten – usually Gylfi Sigurdsson – to attack and making Tosun a considerable aerial threat from Walcott's crosses. That tactic appears tailor-made for Fulham, with Aleksandar Mitrovic an obvious target for the likes of Joe Bryan and Kenny Tete, and any attempt to nullify the Serbian striker might surrender space to the likes of Cairney, Wilson and maybe Bobby Decordova-Reid.
In common with a lot of modern sides, the full-backs became pivotal parts of Silva's system. In many ways, the Portuguese head coach was probably a few years ahead of his time. He wanted his full-backs to recycle the ball effectively between the centre-halves and midfield but also to be prepared to surge forward at any moment to inject energy into an attack. The likes of Bryan, Robinson and Tete are physically fit enough to cover the ground but that sense of adventure can easily prove to be their downfall, as happened with Silva's Everton side and to Slavisa Jokanovic at Fulham in the top flight. Once the fullbacks have bombed on, you become so much more susceptible to swift counterattacks.
Silva demands high intensity from his defensively-minded players, although the pressing techniques did vary from front to back. The 44 year-old is a fierce advocate of cutting out passing lanes or covering the 'shadow' of the opposition rather than swarming around the opponents' key men in a manner similar to Marcelo Bielsa at Leeds. Defending from the front is important to Silva with the number ten instructed to shut down the easiest route to central midfield whilst the wingers tuck into tighter positions to restrict the full-backs.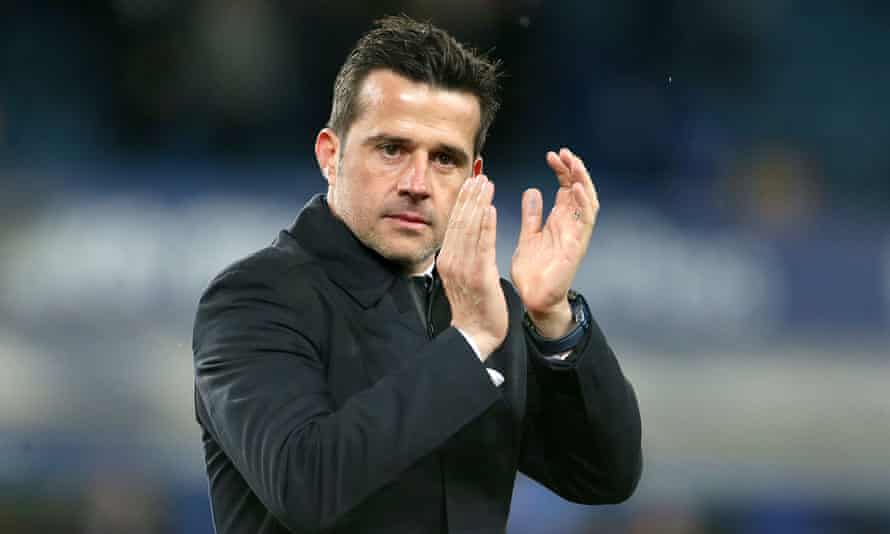 When the ball reaches the engine room, Silva's midfield will press far more aggressively, with one or two players harrying the individual on the ball. Asking wingers to lead a press protects central midfielders and those at the heart of the defence from being outnumbered. There is a further safeguard against that which sees a deep-lying midfielder drop into a makeshift back three to guard against a breakaway.
We have already discussed the fallibility of the fullbacks in such a bold Silva system. That caught up with Watford in a 8-0 humbling at the hands of Manchester City two years ago. He will be keen to tighten up at set plays after his old sides were targeted consistently from free-kicks and corners, something that Fulham's defenders have struggled with in recent seasons.
We will, of course, have to wait for the serious business to get underway but an attack spearheaded by a rejuvenated Mitrovic, who can be found by the creativity of the likes of Cairney, Carvalho and Wilson, seems mouthwatering. It looks as if Fulham will remain active in the transfer market until the closure of the window at Silva's behest, which could make the final squad that he has to select from fairly formidable.
If you are sufficiently enthused to follow in my footsteps and tip Fulham for Championship glory, then you can make your selections at Leagues Apart. That would also have the benefit of supporting fellow Fulham fans whilst enjoying weekly challenges and your own private league. HammyEnd readers can join the league set up specifically for them by entering the code LZURC61NO – and there are plenty of prizes up for grabs here.