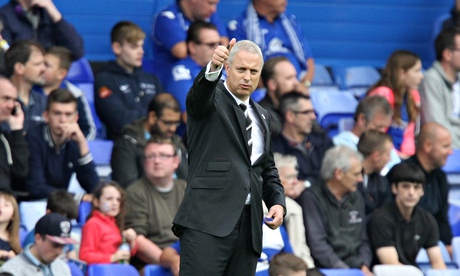 During his decorated career, Kit Symons has been a part of Fulham Football Club for a total of nine years, three as a player and six in a number of different roles within the academy. We fast forward to 2014 and Kit Symons is (temporarily, for now) sitting in the hot seat as a caretaker manager following the sacking of Felix Magath. Kit has left nobody in any doubt that he wants to be Magath's permanent successor, seeing himself as the man to both stabilise and take the football club forward. It's an audition he's passing comfortably so far; two wins from three games, as well as a much improved spirit around the club, the former Wales international is putting himself in a very good position indeed to take the metaphorical ball and run with it.
Symons has steered Fulham to their first back-to-back wins since April, and a first league success of the season, but he still sees room for improvement – a trait that no doubt comes from his years of playing and coaching, "If we could actually start playing well for 90 minutes of football, it'd be a doddle this job but unfortunately it's not quite as simple as that." Our first league win may have been a bit of a squeeze, but the momentum of Championship games mean that two wins in a row (albeit one against a League One side) means the two wins are vital, and with Bolton at home coming up midweek, the momentum will hopefully continue and Fulham, with Kit at the helm, could make it three wins in their last three.
A cloud has been lifted at Craven Cottage, and whilst the league table isn't how we'd all like, it feels everyone at the club is united and, finally, everyone is happy. Kit, part of the Fulham squad that took Fulham to the Premier League in the first place, is a man that every supporter can relate. He's a coach who has served his apprenticeship seeking a break, and Fulham, a club that he openly claims to love, could be his big break. Those that have watched Kit's Under-21s in the past few years will know that Symons has them playing some wonderful football; whilst we obviously have some of the more talented youngsters in the country, it takes good coaching to get them together and playing with the suave nature that they do.
Lest we forget, Kit Symons has worked with the likes of Dan Burn, Marcus Bettinelli, Lasse Vigen Christensen and Cauley Woodrow over the past few years; he won't only know them on a professional level, but there's a personal affection there also. He knows what these players can offer, how much they can give, and they know that he was part of their journey to full-time professional football. All you have to do is look at the Fulham Under-21s page on the Fulham website, and Kit Symons has worked with every single one of them. Who better to have in charge than the man that helped them in the final stages of their development before going to first team football, either at Fulham or elsewhere on loan or permanently?
We've already seen at times in the first three games, some of the football has been absolutely delightful; including his new front three of Bryan Ruiz, Ross McCormack and Hugo Rodallega, a forward line that should, on song,really decimate the Championship. Lasse Vigen Christensen, who when given game time under Magath, previously looked out of his depth, but his performance against Birmingham was impressive; and you've got to look at the effect that Symons is having on the 20 year old Danish midfielder. Marcus Bettinelli gave us the opportunity to win the game yesterday, making some top-draw saves; whilst vice-captain Dan Burn has taken his second chance in the Fulham side with aplomb.
It's only been eight days to date and things have gone from very gloomy to rays of sunshine, imagine what Kit could do with weeks, months and maybe a transfer window? Does anybody know our players like he does? Does anybody know our young players like he does? Does anybody else offer the same connection to the football club, as well as that knowledge of our playing staff? Kit Symons is the right man, at the right time and Shahid Khan should appoint him on a full-time basis. I don't think anybody suits our football club more, and he may be "unproven," but I believe that he will prove doubters wrong, and prove them wrong in style.