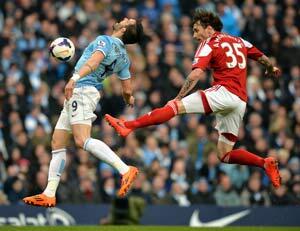 I'm writing this on the coach back from Manchester after a predictable Fulham capitulation. Having visited five new Premier League grounds this season with all five ending in defeat and an accumulative 22 goals conceded, I can't help but look forward to the Championship. An injection of exciting young players and potentially winnable games make the prospect of dropping down a division seem not all doom and gloom.
Moving onto today's game, it's hard to understand how we so regularly manage to completely fall apart in the second half of matches. Going into the break we were down just the solitary goal, a Yaya Toure penalty, and far from out of the game. With Lescott and Demichelis at the back for City, there was always a chance of taking a half chance. But the almost comedic defending later on in the game seems to be an unsolvable problem as I'm sure Jol, Meulensteen and Magath will all testify to. Obviously you have to consider that we were playing Manchester City and for a large period of the game with 10 men. However, the amount of space afforded to Yaya Toure to cooly pick his spot for his third goal was laughable. It's hard to reflect on that performance with any sort of positivity apart from 19 year old Cauley Woodrow's tireless efforts. The youngster showed his physicality by frequently out jumping the City centre halves. Additionally, he showcased his ability with the ball at his feet by linking up well and retaining possession admirably. The introduction of Patrick Roberts mid way through the second half will also provide hope for the future for Fulham fans. The exciting young talent looked lively, linking up well with Holtby and offering far more than Kacaniklic did.
I can't help but question what has stunted Kacaniklic's development so significantly. 2 years ago he was an exciting player with a great future ahead of him. Nowadays, he picks up the ball and gets nonchalantly muscled off the ball. When he does manage to find a bit more space, his final ball is nothing short of abysmal. Let's hope the same doesn't happen with Roberts. I'm still not sure whether Stockdale is good enough to play at the top level or not. As per usual, some good saves mixed with appalling distribution. At Championship level I'm sure we'll have no problems with Stockdale, but for the Premier League I think he falls just shy. There's not really too much more that can be said about that performance, two rash challenges from Amorebieta cost us in the form of two penalties and a red card. It was always going to be an impossible task from that point against such a ruthless attacking side. Our focus should always have been on Everton at home where we'll have a significantly greater chance of picking up a point or three.
You follow Harry Fremantle on Twitter @harryfremantle or visit his blog here.