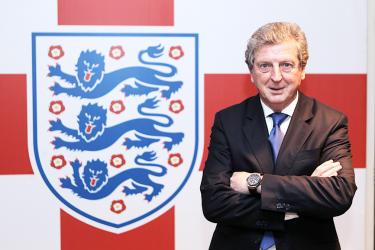 The England manager's job is one of those jobs that everyone thinks they can do. What's great about football is that it brings people together – and everyone has an opinion. The rise of the internet and an insatiable appetite for comment that has existed since tabloid football hacks lowered the standard of punditry to the gutter means that almost everyone who wants to do can now broadcast their view. The commentariat have been out in force over the past week decrying the decision to appoint Roy Hodgson, who needs no introduction to regular readers of these pages, as Fabio Capello's successor – thereby derailing the Harry-for-England bandwagon. They are wrong, though, and here's why.
Roy Hodgson's international record made him the stand-out English candidate. Once the Football Association bowed to the jingoistic urges of the country and went public with their desire to name an Englishman as the next national team coach, there was a shortage of credible names in the frame. Newcomers to international management quickly get found out (something England fans don't need reminding about after seeing how swiftly the likes of Keegan, McLaren and Capello himself got into difficulty). The eve of a major tournament, with organisational uncertainty having been wafting around the corridors of Soho Square for a while, is no time for a novice. Hodgson's experience of making unfashionable nations better sides in double quick time means he fits the bill.
Take, for instance, his remarkable success with Switzerland. Hodgson took the national team to the 1994 World Cup, their first championship finals since since 1966, qualifying from a group that included Portugal and Italy, taking four points off Arrigo Sachi's Azzuri (who went on to reach the final of the tournament, remember) in the process. He wasn't finished there. Once they got to the States, the Swiss reached the last sixteen, where they were unfortunate to be eliminated by Spain on penalties. They eased to qualification for Euro '96, with Hodgson leaving before the finals in England to take over permanently at Internazionale, and were ranked the third best side in the world. More than a decade later, he almost guided Finland to Euro 2008 and masterminded their rise to a record-high 33rd place in FIFA's international rankings.
Unusually for an English coach, Hodgson cut his teeth on the continent and won't be flummoxed by facing the different tactical approaches of foreign nations. He's managed sixteen different sides in eight countries winning six league titles. He revels in the tactical minutiae of football, having been a regular member of UEFA's Technical Support Group and wrote many of the coaching manuals that have helped some of Europe's best young minds get to grips with how you set up a winning side. Hodgson's thoughtful approach to management won't endear him to bloke who things you should bash in the box, but it is more likely to bring reward that a mere motivator. Of course, his thoughts on formations and how to win tight games – cribbed directly from UEFA's website – flew right over the heads of the Daily Mail's readers.
Hodgson's also a realist. Like the very best father figures, he'll sit you down and explain patiently why it's best not to get too carried away, which is something we should be doing about this time of year every time England reach a major tournament. For all the bluster about the golden generation, we've not reached a quarter final since 2006. It's about time people realised that we're no longer a leading light of the world game. The Football Association deserve credit for making a considered, long-term appointment that, should their internal structures be reformed correctly, could deliver a lasting legacy beyond the senior England side. Hodgson loves nothing more than coaxing a little extra out of talented players on the training field. With Burton finally close to completion, you can imagine him spending hours passing on tips to the country's best youngsters. He'll wholeheartedly endorse Trevor Brooking's blueprint for youth development.
There's been criticism of Hodgson's brand of football but it's remarkably simplistic. If England try to transfer the frenzied pace of the Premier League on the international stage or copy the Barcelona model, they'll come home with their tails between their legs. I'm sick of poorly organised, defensively-suspect England sides being a perennial disappointment. Hodgson, whom the nation woke up to in a big way when he was a BBC pundit at the World Cup shortly after masterminding Fulham's fine run to Hamburg, will drill defensive shape into even the most disbelieving prima donna and he'll quickly dispense with those who don't toe the line. Ask Jimmy Bullard.
What's worried me has been the almost casual casting aside of his club record by supposedly serious journalists. Gabriele Marcotti, who was featuring on Talksport's phone-ins for years, before suddenly being promoted as the cultured continental thinker who could tell the English how to do things better ventured this laughable assertion about Hodgson's Fulham side when asked for a comment by the Beeb:
Personally, my reservations would be about his ability to judge players from a distance. At Fulham, with the exception of Brede Hangeland, they were mainly players he'd inherited. It was almost like they did well despite his signings.
It's almost comical that the Times' signature football columnist doesn't know that Hodgson reshaped a doomed Fulham side after pulling off the most miraculous of escapes from relegation. The players he didn't inherit included Mark Schwarzer, Stephen Kelly, Damien Duff, Zoltan Gera and Bobby Zamora, all of whom played pivotal roles in the European run that convinced the country of his birth to give this throwback to football's good old days a second look. For Mr. Marcotti's benefit and everyone else's enjoyment, here's a look at Hodgson's best bits from Craven Cottage, with thanks to the brilliant Billy Murphy from Acquiesce Productions:
I'm afraid I can't end without mentioning the disgraceful front page splash of the newspaper that shall not be named. For a company that had just been savaged by a legislative enquiry into serious wrong-doing, it was a staggeringly depressing error of judgement to run a front page mocking a good man's speech impediment. In the 21st century, it smacked of the bore at the bar who goes for the cheap laugh and misses with predictable regularity. Not only that, but it's this particular red top that always implores us to get behind the boys. They got off to a great start.
The press and the public might have wanted Harry, whose limitations have been laid bare for all to see in the last few months at White Hart Lane. If Hodgson's given a chance, they might just be grateful that the FA were brave. What's more, people have finally realised that you need a Craven Cottage connection to take England to success in international tournaments. For George Cohen and Bobby Robson, read Roy Hodgson. He'll even have Ray Lewington at his side for good measure. At a stroke, my interest in England has been revived. These four years should be fun.