The following is a guest post from Football Fan Cast's Archie Rhind-Tutt on how Clint Dempsey has performed so well this season.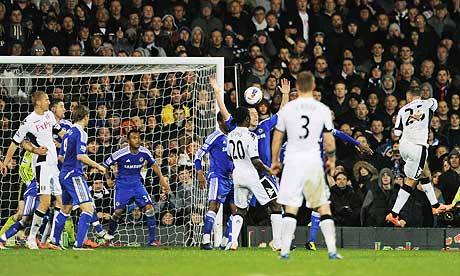 "He scores with his left, he scores with his right, that boy Clint Dempsey, makes Drogba look…"
Let's put it this way, the final word to this song is not contrite. Of late however, contrite would be an accurate reflection when comparing Clint Dempsey and Didier Drogba. It does seem somewhat bizarre to be mentioning the players in the same sentence considering how revered a striker Didier Drogba was, not just in the Premier League, but worldwide.
Yet now, Fulham's No.23 almost seems to have overtaken him (though Drogba is 34-years-old). In the Premier League, Dempsey is even outscoring the Blues Frank Lampard by netting 16 goals compared to the Englishman's 11. Strictly, Dempsey is an attacking midfielder who works best when playing off a striker. Nevertheless, his league goals for Fulham have resulted in further recognition.
Craven Cottage has been enjoying the American's performances for just over five years now and along the way he's scored some important goals– whether it was the strike to secure Fulham's survival in 2007 or the impudent chip against Juventus in 2010, Dempsey is regarded highly by all at Fulham.
After he'd netted yet another goal, this time against Chelsea, Club Captain Danny Murphy praised his team-mate in the post-match interview as the American tried to play off his recent run of form as lucky.
"It's not luck. It's his work ethic. I've never trained with anyone like this man [Clint Dempsey]. He's unbelievable. He plays hard. He trains hard and he wants to improve all the time…He deserves the credit because he's been fantastic for us."
Murphy's right – the American's performances have merited praise. His all round game is good but there have been some subtle improvements to it, which has led to the tremendous campaign Dempsey's enjoying. For example, his anticipation has been superb. The timing of his runs into the box and his poacher's instinct when goalkeepers spill rebounds are two areas in particular where he has excelled. His late winner against Liverpool illustrated this. Danny Murphy's tame shot was unexpectedly parried by Pepe Reina. There was Dempsey putting pressure on the 'keeper and subsequently scoring the rebound.
What's more some of the goals he has scored suggest the American has been working on his balance and core strength. This makes him much harder to knock off the ball and it means, due to the good technique he possesses, he is a far more dangerous player when going for spectacular efforts, of which there have been a few this season. This in turn has helped to make him a stronger finisher as the 22 goals in all competitions suggests. With all of this comes confidence, something which cannot be underestimated in the development of any player.
Now this analysis of Dempsey's attributes is not to say he was a bad player before, for he wasn't weak in any of these areas previously –far from it. He has merely built on them and like all greats, he is prepared to keep working, continuing to find ways to improve. Unsurprisingly, with Dempsey's fine form, speculation has increased as to whether the attacking midfielder will soon leave Craven Cottage with a year left on his contract.
Should a club with Champions League football come calling it's hard to see Dempsey staying. However, the American will realise he will be first choice at Fulham, playing and starting every single week. Should he move, Dempsey will be aware he'll be rotated more due to the larger squads which bigger clubs have. Unless he moves to local rivals Chelsea or QPR, as Bobby Zamora did, it's hard to see many Fulham fans resenting a move. That said Martin Jol has said how keen he is to keep Dempsey which is understandable.
The Dutch manager is fortunate not only to have Dempsey in his attacking armoury. He also has players such as Mousa Dembele and Bryan Ruiz. Their approach is less direct than Dempsey, who heads for goal with the ball at his feet. Dembele and Ruiz have a little more subtlety to their game, such is the quality of control they have. This contrasts well with Dempsey and most importantly for Martin Jol, it helps to give Fulham balance when going forward.
Unlike Dembele and Ruiz, Dempsey's direct style is rewarded with goals. The American is the fourth top scorer in the Premier League this season – another impressive achievement. Whilst Fulham fans will of course be desperate to see Dempsey continue to don a white shirt, they should be pleased their comparison of their American hero with Didier Drogba is looking much more accurate than it once was.
This article was originally published at Gone with the Rhind. You can also follow @archiert1 on Twitter