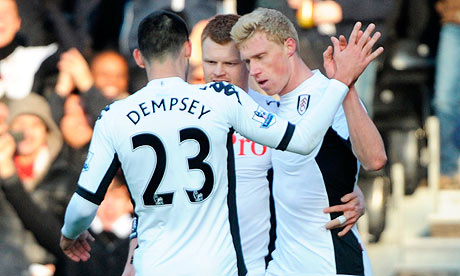 Martin Jol says his initial discussions with Pavel Pogrebnyak about securing the Russian striker's future with Fulham beyond this summer have been 'constructive'.
Pogrebnyak has scored five goals in six games since signing on a short-term deal from Stuttgart which expires at the end of the season. Media reports have suggested that other English sides would be keen to snap up Pogrebnyak, although the striker's own intention seems to be to stay with Fulham.
Jol has confirmed that his conversations with the forward, who he has been a long-standing admirer of, suggest that he would like to remain at Craven Cottage.
I think he Pogrebnyak said in the press that he would like to stay so talks are going on with him and he will make his mind up in the next couple of weeks. I think the talks have been constructive because he's said that he would like to stay.

I've had a word with him a couple of times and he's happy here, he knows that his situation could change because he's experienced that in his career and here I think the grass is green for him so hopefully he appreciates that.