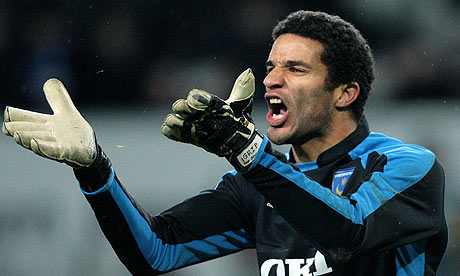 Not strictly Fulham related (although with the oldest squad in the league its probably more relevant to us than anyone else!) but I just wanted to raise awareness of a great article in the Guardian by ex-England goalkeeper David James, in which  he talks about the psychological flaws in a professional footballing environment and the impact of them when the day comes to hang up the boots. Worth a read.
What do you make of it; do footballer deserve sympathy? ~lork
Stepping out on to the field for my 900th club appearance on Saturday evening, it was becoming harder than ever to escape the fact that my playing days are numbered. At 41 years old the realisation is finally beginning to hit home – I can't play football forever. At some point in the not too distant future I'm going to have to hang up my boots. The change is unimaginable.
After 26 years in the game I'm as institutionalised as they come. How will I cope? The unexplained death of Gary Speed has prompted many players to speak candidly about depression following their retirement, bringing the issue into stark focus. From Dean Windass to Stan Collymore, players who were once regarded as stars suddenly find themselves lost. My generation of footballers won't become pub landlords like our predecessors, so what will we do instead? An awful lot of soul searching, I imagine.
Football has been our addiction. We have lived the dream but for many it comes to an abrupt end. Last weekend, doing a bit of punditry for the BBC, Robbie Savage told me that since retiring there are days where he just doesn't know what to do with himself. Having spent our entire adult lives following orders – infantilised by the system – suddenly we have to make our own decisions, to grow up, to reintegrate back into mainstream society.
Click Here To Continue Reading
On retiring many players simply disappear from public life. Where once they were lauded on TV every week, suddenly they are a nobody. It can be very hard to take. Already I have had a taste of that – from playing for England at the World Cup when it felt like the whole nation was talking about us, to playing in the Championship, a league that receives a fraction of the media coverage of the Premier League. No wonder former sports people end up on shows like Strictly Come Dancing, they miss being the centre of attention.
I can't see myself ever doing one of those shows and yet it was only a few years ago that I wrote in this column about my dislike of punditry. But last weekend there I was on the BBC. I really enjoyed myself – even if the lads did hammer me for the waistcoat I was wearing.
Some might wonder what footballers have to be depressed about, playing the beautiful game, earning millions of pounds (though not all of us do), but while it is a wonderful way to earn a living, football is not real life and even if we try to remain in the game – through management or punditry – we can't escape the real world forever.
So what do I mean by institutionalised? Well, at 41 I'm pretty childish. I remember the record producer Pete Waterman once saying that as soon as a boy band tell you they want to write their own songs you know they're finished. Football is no different. Players remain juvenile well into their late 20s and 30s. It suits the industry to keep us that way. And the longer you stay in the industry, the deeper that goes.
Football has been everything to us. It rules our home lives. We live for the highs – a man-of-the-match performance watched by millions on live TV – and crumble at the lows, a never-ending oscillation between extreme emotional states. It affects our relationships with our partners, children, friends and colleagues. In my 26 years of professional football I've been a nightmare to be around. At Liverpool I'd come off the field after winning 3-1 and be in a terrible mood because I had conceded a goal. Anyone who came near me after a defeat – strewth, it bothers me how horrible I used to be.
The game puts a great deal of strain on those around you. Children in particular suffer. In my own life I gave much more to football than I did to being a father. Whether it was mood swings affecting the atmosphere at home, or just physically not being there – travelling to away games, training camps, pre-season tours, training on Christmas Day. When you retire, suddenly you are forced to pick up the pieces. You have to become a real dad, a real husband, a real son. No one warns you that this will happen and who do you turn to for help? You could be the richest retired footballer in the world but you can't pay someone to sort out your family for you.
There is a misconception that all footballers are very confident, but it is the opposite for most. While as individuals we are often put in a position of prestige, our power in real terms is pretty limited. No wonder so many young players go off the rails. Idolised as God's gift in one sphere, within the workplace they are expected to bow down to the authority of the club. It is a strange and confusing dynamic, forever in conflict. It is no coincidence that footballers tend to be extremely insecure. We feed off praise, and it is a harsh reality check when you realise that most people around you are feeding you absolute rubbish.
It is a great irony that in a game where we routinely talk about confidence on the pitch, psychological support off it is so appallingly neglected. Many years ago when I was going through a bad time at Liverpool I approached the club for some support. Back then I was told, "shut up and deal with it". Sadly, I don't think that football has moved on from that position. Even when clubs are forward thinking enough to invite a sports psychologist into the fold players are apprehensive about making use of them. They are too worried about what their team-mates and management will think. "Will everyone think I'm mad?" "What if he tells the manager about me?" "What if it jeopardises my position in the team?"
I always say it: we have nutritionists to help with our diets, sports scientists to help our strength and conditioning, technical coaches to help our performance but the one area that essentially determines everything – psychology – is always missing. Ask about a psychology coach and you are guaranteed to be met with a frown.
Our industry is crying out for an independent support network to help current and former players deal with the pressures of the game. Until then I'll probably put off retirement for a while yet. At least until I reach 1,000 club appearances.