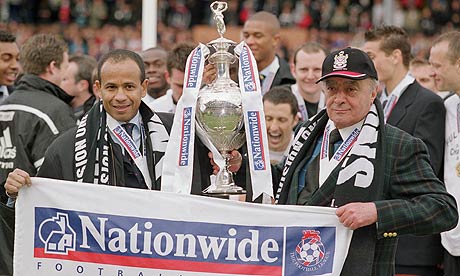 Fulham fans are often characterised as the reserved, civilised types by our contemporaries at other clubs. Lately, our excitement could just be getting the better of us. The excellent Rich Allen asked in the aftermath of the win over Wolves:
Who can doubt Jol's Fulham now? Who dares doubt a machine like this? Who has seen a better Fulham side?
The good folk at the Guardian were purring appreciably on Monday as well:
Fulham have potentially not had a striker as good as him [Pogrebnyak] since Louis Saha. Or, indeed, a team as exciting as this in their history.
My points of reference are more limited than others, having only been going regularly to the Cottage since the early nineties. Whilst I'd put more than a kind word for Brian McBride on the forward front, the last side to have me marvelling at their potential – for that's what it is at this stage – was the one that Jean Tigana built. Thinking about it, there are more than a few parallels.
The Frenchman arrived after a period of managerial instability – two managers in two seasons, as it happens (and three if count the Karl-Heinz Riedle/Roy Evans caretaker combination) with a clearly-defined brief. There were worries about whether he'd adapt to the English game or change the style that had seen the club climb swiftly into Division One and more than a few concerns about selling our best striker to a potential promotion rival: for Bobby Zamora, read Geoff Horsfield. People even wondered whether his replacement would be good enough to get goals in England, but Saha soon scotched those arguments.
Tigana turned a more direct – and particularly sterile side, certainly under Bracewell – into a far more expansive, pretty passing team. There were technicians in midfield, with the peerless John Collins pulling the strings in a fashion not too dissimilar to the way Danny Murphy does now, and fluid movement from the forward players, with Saha, Barry Hayles and Luis Boa Morte scoring goals for fun. Tigana, like Jol, was a truly continental coach and, while it ended in something approaching ignominy, people shouldn't understate his role in taking the team to a level they've graced for more than ten years now.
The quality of that side is reflected in the careers they went on to forge. Rufus Brevett was much improved at left-back, even outshining Jon Harley who was signed the following season to replace him. Tigana's first-class coaching saw Hayles become our most potent Premier League forward in the very next campaign. Steve Finnan looked so suited to the top flight in his first season that he made the PFA Team of the Year and won a Champions' League medal with Liverpool. Saha, famously went to Manchester United over Chris Coleman's not-so-dead body, and is still banging them with regularity now for Spurs. Imagine what his career might have been like without those niggling injuries. And, if your mind is still visited by the ghost of Steve Marlet, remember that Tigana certainly had an eye for a player. Think Legwinski, Goma and, of course, Steed Malbranque.
His Fulham team was the last to truly offer chance to youth. Sean Davis had been languishing in the reserves during the Keegan era but became a combative – and even cultured – defensive midfielder before there were in vogue under Tigana's tutelage. The Lambeth lad even got as far as the England bench and no-one will ever forget those goals against Blackburn and Sheffield Wednesday. The Frenchman was brave enough to hand Zat Knight a full debut in the Premier League and, whatever his limitations, he made 181 appearances for the club and amassed a couple of England caps. In the same way that Jol has nurtured the likes of Briggs and Frei, Tigana gave youth its head too.
Jol's project shows plenty of promise – much more than the other clubs currently going through a 'transitional' phase. Abramovich was never likely to have the patience to stick with Vilas-Boas, who was horribly hindered by the worst excesses of player power, whilst Kenny Dalglish's spending spree isn't exactly pulling up trees at Anfield. Can Jol really take us to the next level? It's a stiff ask and we'll have to wait and see, but we can dream.