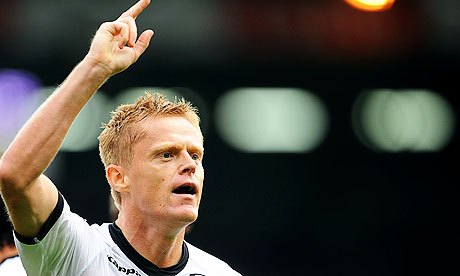 I often share the same bus journey home from Hammersmith as a couple of Fulham fans who sit elsewhere at Craven Cottage. Our trips back through west London offer an interesting insight into how others might have viewed the game and give an alternative viewpoint on Martin Jol's reign. Thursday night saw an interesting discussion about the merits of Jol's selection policy and one name kept coming up: Damien Duff.
The experienced Irish winger, who was like a man reborn under Roy Hodgson and for me remains Fulham's best crosser of a ball, hasn't started a league game for Fulham since the middle of September. His domestic appearances have been fleeting since then – the briefest of substitute appearances at Wigan (where he somehow found the time to get booked) and a much longer showing at Stoke after Moussa Dembele limped off injured. Duff did start in Krakow, but after Dembele's sending off saw little of the ball.
He was particularly pumped up for Thursday night's return fixture – and not just for the obvious reasons. A regular for Giovanni Trapattoni, Duff will still want frequent football to earn a spot in the Republic of Ireland side that takes on Estonia in their European Championship play-off next week. It also seems as though he is in direct competition with Dembele for a spot in Jol's side, so he had ample motivation to send a reminder to the manager of his ability.
Not that anybody amongst the Cottage faithful needs such a hint. Duff's professionalism has never been in doubt and he quickly proved anyone who wondered whether he'd lost the sharpness that characterised both his eye-catching entrance to English football and the vibrancy of his displays for Jose Mourinho at Chelsea with the answer upon his return to SW6. He might not have the pace to glide away from defenders in an instant, but will still show an eagerness to take on a full-back. Duff also others something Jol's side have noticeably lacked this season, genuine width, plus the versatility to play on either flank.
Then there's his work ethic. He'll scurry across every blade of grass and work back to protect a defence that seems to have been left to fend for itself in the early days of Jol's tenure – as Rich pointed out yesterday. If John Arne Riise is really going to be encouraged to explore his attacking potential from left back, then Duff's willingness to track back should count in his favour. He could offer similar protection to whoever finally nails down the right full-back spot too.
Including Duff in your side also almost guarantees chances. His hyper-active start against Wisla underline what an attacking asset he can be. Eagerly cutting in from the right, he extended an Estonian goalkeeper who may well face a few more Duff curlers in the coming weeks within three minutes. Then he showed his intelligence in the build-up to his goal, increasing the tempo with a clever flick to Bobby Zamora as space opened up for a Fulham break. When Andy Johnson sped towards the penalty area, Duff was the furthest Fulham player forward and he made no mistake with an assured first-time finish.
It's far from a one-off either. The second half of last season saw Mark Hughes' side pull away from the relegation zone and move beyond mid-table mediocrity. It also coincided with a purple patch of Duff goals. He scored the winner against Newcastle – to his quite obvious enjoyment – and followed that up with an equaliser at Manchester City and two crucial goals against Blackburn. Had he not picked up an Achilles injury in April, Duff could have played a far more active part in Fulham's impressive end to the season.
If Jol is keen to move towards a quicker, more vibrant Fulham then you can understand his preference for Dembele. But it would be a real shame to see Duff relegated to second choice – even at 32, he's too good a performer for that. What's more his experience and discipline could help to contain Gareth Bale tomorrow afternoon.