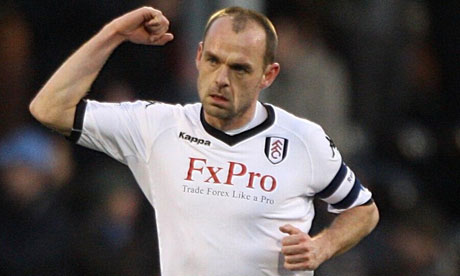 Danny Murphy is ready for the start of the Premier League campaign and the Fulham skipper says he's in the best shape of his career.
Murphy, now 34, says that the club's statistics showed that he was as fit last season as he had been at any point in his 18-year professional career. He cites the example of his former Liverpool team-mate Gary McAllister in suggesting that he could be a regular in the Fulham midfield for the next two campaigns.
Last year I missed one game and all my physical stats were better than the year before – so there wasn't a decrease, there was an increase in my physical output. That could be for many reasons but maybe it's because I am feeling fitter and still able to do the physical side of the game – which is what you're fighting when you get older.

In terms of my ability, I'm fine with that. It's going to be as the years go on, about the physical demands of the games – especially this year if we do qualify for the group stages [of the Europa League].
Martin Jol has signed two new midfielders – in Marcel Gecov and Pajtim Kasami – during the close season and they are expected to be groomed to take over from Murphy in time, but the Fulham captain is confident that he's still got plenty to offer as he approaches his fifth season at Craven Cottage.
In an ideal world, from now, I'd like to play another two seasons – that would be realistic. Then I'd have to reassess, that's as far as I can look. You see a few players getting to that level, a great inspiration for me was Gary McAllister, I think he was 35 or 36 when he was at Liverpool and was a huge factor in winning the treble.