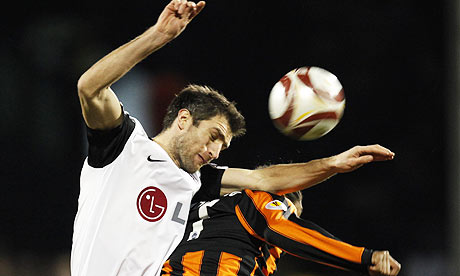 Aaron Hughes believes that Fulham's early start to the season will not disrupt their Premier League campaign.
Fulham's season started on June 30 against Faroese outfit NSI Runavik after they earned a Europa League place through the Fair Play league and some pundits have suggested that their form may suffer as a long season catches up with the players around Christmas. Hughes, however, says that fatigue shouldn't be a factor.
It hasn't been too difficult to adapt to the early start. We've tried not upset our pre-season, if you like.

The games are slightly different because they are competitive but we're still working through things in training with the new season in mind. Obviously we maybe have to tweak one or two things in the build-up to competitive games, but I think once we knew we were coming back early it was definite then. You get your head round it and you carry on.
Hughes is now looking forward to Fulham's third qualifying round tie against RNK Split, with the first leg in Croatia next Thursday.
We go where we have to go. We take each game as it comes, wherever that may be.

We're still in the competition and we'll enjoy it as much as we can for as long as we're still in it. We will do exactly the same as we would do if we were going to play Manchester United.

We will have a couple of guys maybe go out and watch a couple of their games and bring reports back. Leading up to the game, we will watch a couple of DVDs, have a little chat about certain things.

Maybe certain things that we feel they're dangerous at and certain areas where we feel we can hurt them. It will be no different to preparations for a Premier League game really so we will know enough about them come kick off.