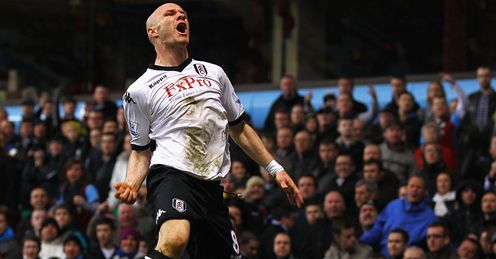 Rich has written a fascinating analysis of Andy Johnson's career over at CCN. The common consensus seems to be that he's surplus to requirements at Fulham, especially if Martin Jol brings in a new striker or two, as we expect.
Plenty of clubs have been circling to take the England international off our hands. QPR have been linked previously and we reported Leicester City's interest only this morning. There's a school of thought that Johnson hasn't scored enough goals during his time at the Cottage, but mere statistics only tell part of the story. They don't describe just how devastating his partnership with Bobby Zamora was. Johnson's first season at the club – the one where Bobby didn't really fire – saw them frighten a whole host of Premier League defences. With Zamora looking a lot sharper as we entered Europe, who knows what might have happened had he not been banjoed, to use Roy Hodgson's memorable phrase, by a cynical Amkar Perm defender.
After his injury struggles last season, plenty were quick to forecast that we wouldn't see AJ in a Fulham shirt again. He came back sharp and hungry – and scored some important goals. The equaliser at Wigan might have been a little fortunate, but it was vital. Equally crucial was his instant impact at Wolves. We can't forget another point-saver at Aston Villa either. Johnson might not have the searing pace that saw him light up the Premier League with Crystal Palace, but his movement and work rate will always trouble defenders and create chances. He's not a bad poacher, either, as those goals prove.
He might not be Jol's first choice to partner Zamora, but by virtue of how brilliantly the pair have gelled, he surely deserves another chance. Tossing him aside would seem like a real waste.