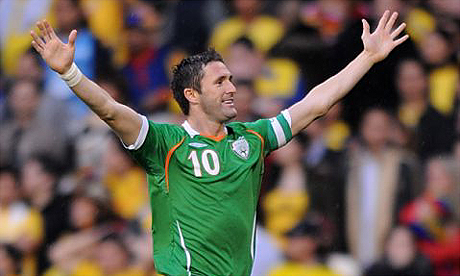 One of my first reactions on hearing that Martin Jol would be taking over – after, the excitement of a new manager – was a sense of wonder at what might be ahead of us in the transfer market. For several summers, our transfer activity has been measured more by who we've kept, rather than who we signed. With European football seemingly enough to retain what largely seems like a loyal squad, most Fulham fans have been busy second guessing Jol's first move.
The speculation that Jol might return to his former clubs began almost as soon as the appointment was announced. The usual names, who have followed him from club-to-club – Atouba and El Hamoaudi – were trotted out and I was all surprised at how long it took the media to link Robbie Keane to a move to the Cottage. It's duly happened and, earlier this afternoon, Sky Sports News were going big on the idea of an imminent transfer.
Now, everyone knows that Fulham are in the market for at least one striker. And nobody can doubt that Keane has been predatory in the Premier League. Toss into the mix that he thrived under Jol at White Hart Lane and you might be thinking that this seems like a good deal for Fulham. I'm not so sure. Keane has struggled for starts at Spurs in recent years and looked a shadow of his former self on loan at West Ham towards the end of their relegation battle. Speaking to a Hammer at the weekend, I was struck by how down he was on the Irish international's performance levels. There was little of the almost trademark spark or certainty in front of goal.
Keane, even though he is only 30 and still bangs them in for the Republic of Ireland, seems to be past his peak. If Jol wants a natural partner for Bobby Zamora, the answer is closer than he might think. There may be question marks against Andy Johnson's goal return since he moved to the Cottage, but there's no doubting his commitment. Johnson finished the season impressively and deserves the right to prove himself. I'm concerned that Keane, who after all scored three league goals last season, would prove a retrograde step and that we should be considering younger alternatives.