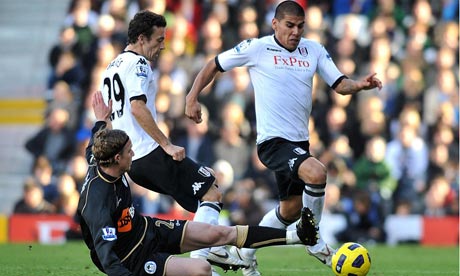 Fulham have turned down Monterrey's move for their Mexican left back Carlos Salcido.
Rumours that Salcido would be returning to his homeland this summer were sparked by Mark Hughes' revelation that Salcido's home had been burgled and that the defender's family had gone back to Mexico after failing to settle in England. South American publications had reported interested in Salcido from Chivas, Pachuca and Monterrey but Fulham appear keen to keep hold of Salcido, who only moved to Craven Cottage last August from PSV Eindhoven.
Monterrey released a short statement today, saying:
We inform you that we have received a response from Fulham Football Club of England, declining our offer to sign Carlos Salcido.
Salcido has had a tough introduction to life in the Premier League, struggling at first with the pace of game. After a brief spell out of the side, Salcido return to the team and delivered much improved performances towards the end of the season. He was left out of last Sunday's 2-2 with Arsenal.