Arguably Fulham's toughest test of pre-season is also their last. Having had a test of European football last year, the Whites won't neccesarily be overrawed by the visit of Werder Bremen to the Cottage this afternoon but the strength of the German outfit will certainly provide Mark Hughes will an ideal opportunity to run the rule over his new side just a week before the new Premier League season starts at Bolton.
Werder, formed by chance after some students were awarded a football having won a sports competition, have won the German title four times and enjoyed a glorious resurgence until celebrated coach Otto Rehhagel in the 1980s. When the man best known in this country for taking Greece to unexpected glory at Euro 2004 left for Bayern Munich, Bremen tried and failed to replace with a succession of short-lived managers.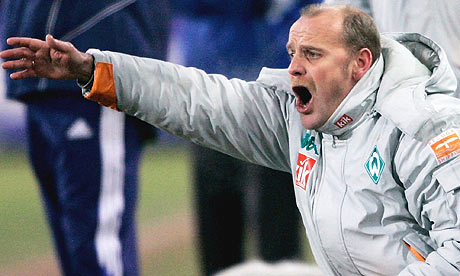 Eventually it fell to Thomas Schaaf, who was initially promoted from coaching the youngsters on a temporary basis, to steady the stip – saving the club from relegation in his first season and going to land the double in 2004 and qualifying for four successive Champions' League competitions. Even when they did feature in the UEFA Cup they rteached the final, enduring an extra-time defeat to Shakhtar Donetsk, that Fulham fans can appreciate.
Werder have a strong squad full of talent. Three of their key players were involved in Germany's sparkling performance at the World Cup in the summer and have now joined up with the squad. Goalkeeper Tim Wiese is one of the Bundesliga's best custodians, while the experienced Per Mertesacker, who was an Arsenal target during the summer, marshals a mean defence. Perhaps Bremen's biggest star is young Meszut Özil, who continues to be linked with a big move elsewhere, but looks set to start the campaign at the club with the carrot of Champions' League football – Bremen start with a tough qualifier against Sampdoria – dangled in front of him.
Captained by Torsten Frings and with a whole host of homegrown talent to supplement their starting line-up, Werder will certainly prove tough opposition this afternoon.