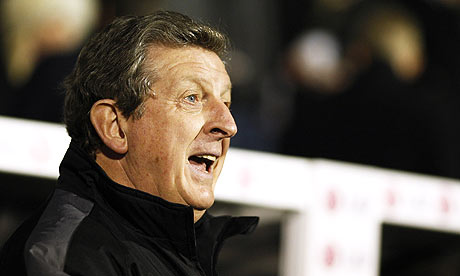 Roy Hodgson has dismissed suggestions that Fulham will find their Europa League quarter final with Wolfsburg easier than earlier ties against Shakhtar Donetsk and Juventus.
The Whites knocked out the defending champions and Italy's most successful side to book a place in the last eight but Hodgson has warned against underestimating the German champions, despite the fact that Wolfsburg are lying in mid-table at the moment. Asked if Wolfsburg were less of a threat than Juve or Shakhtar, Hodgson talked up the quality of the Bundesliga.
I wouldn't say that. Wolfsburg were in the Champions League, they won the German league last year ahead of Bayern Munich. And Bayern Munich have just beaten Manchester United – so we have no chance.

What I've learned about Wolfsburg I have only learned since we were drawn against them. But I know they are a good team, they score a lot of goals, they have good attacking players and they are hard-working and well-organised.

We know the task is a tough one but for me every one of the seven teams we could have played is a good team and a team capable of beating us.
Hodgson hopes the fact that Fulham can now focus on the Europa League after what must be an exhausting campaign will work in their favour.
We feel a sense of achievement and pride that we have overcome so many obstacles to get this far. Having overcome those obstacles, many of which were in the shape of very good teams, we have earned the right to believe in ourselves and to believe that, if luck continues to favour us, we can go even further.

But we are also conscious of the fact that the teams we are playing are more than capable of beating us so it's going to require another fantastic effort if we are going to continue this adventure.