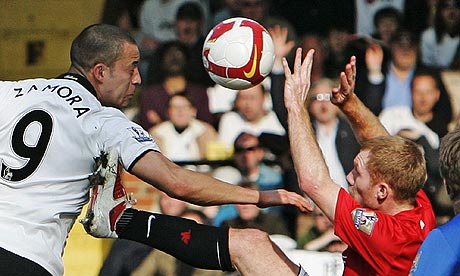 Loved this from CCN last night.
Our centre-forward is playing with supercharged mojo at the moment, that sort of once every few seasons purple patch where his entire game is off the charts.  The defence couldn't handle him outside the box, they couldn't pick him up inside the box (Riise could).  His distribution was first rate, his footwork nimble, his finishing.. deadly.  A pleasure to watch.  Whether he is being driven by demons or is now free of them is not entirely clear, but whatever:  he's on fire, as they say.
Such displays and recongition of his fire might make Lydia's 'Kings of Leon' chant get off the ground. Seriously, though, Bobby's been inspired these past couple of weeks. It seems as if he produces he's best when he has something to prove. It is often said that foreign players need a year or so to adjust to the Premier League. I wonder if strikers need a similar amount of time to get used to Fulham. I can't remember the last one who stepped in and looked the part straightaway (Louis Saha maybe?).
Zamora's tough to handle at the best of times but when he adds the kind of predatory finishing from Basel to his hold-up play and hard work he's almost unplayable. That's how Manchester United found him at the Cottage last year. His header had to be stopped by a Scholes hand and he gave Rio Ferdinand the runaround. If Ferdinand can't cope with him, what chance will the makeshift United defence have on Saturday? 101 Great Goals – known chiefly as a highlights site – asks an apposite question.