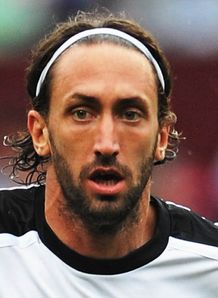 Opinions vary over Jonathan Greening. I talked to somebody yesterday who thought he'd had a lot to do with us carrying more of an attacking threat in recent games. Others think there are better options out there ton whom Fulham could spend the reported £5m fee that West Brom are demanding to make the deal permanent.
Rich has an analysis of Greening's recent performances compared to our injured captain here. Early games in a new side aren't necessarily indicative of a player's value. Greening's confidence and impact has grown the longer he has been around the squad. Unfortunately, the chalkboards don't cover the European games. I thought he was outstanding in the home game against Roma and was unfortunate not to score on a couple of ocassions.
Some fans have been critical of Greening's sideways passing. I don't need to remind people that Dickson Etuhu's lack of a forward pass – indeed, I remember making that point myself – early in his Fulham career. You get the sense that Greening's a steady influence, comfortable taking the ball off the centre backs and distributing it, but also someone who could be useful in a more advanced position.
Don't discount Roy Hodgson's role in all of this. It seems to me that of our four man midfield, he's keener for the wider players to get forward. They have license to cut inside and linger around the edge of the box, firing off shots or trying a killer pass. The base of the midfield has to stay in place to guard against a swift counter attack. It's rare that Murphy pops up in the opposition box, for example.
Greening probably wouldn't make my first choice Fulham midfield, but he's been a solid Premier League performer for a number of seasons, and is a very useful squad player. On the subject of replacements, Nigel Reo-Coker's name has been touted around a bit. He's not a holding player and I'd argue that Greening would offer more defensively than him. Plus, our hopes of getting him on the cheap might have floundered if he is back in favour at Aston Villa – he captained them last weekend.
The £5m fee is what Roy will have to pay to get his man. English players are continually – and sometimes drastically – overpriced in our market. Hodgson's judgement regarding players has largely been sound in his two years at Fulham. I'm happy to keep trusting it. Greening's certainly got plenty to offer.