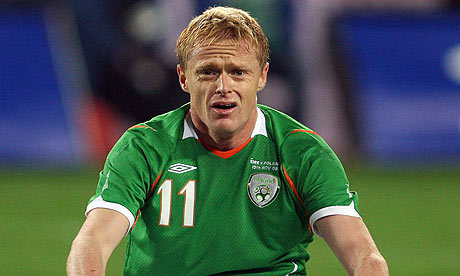 You probably tell by my exuberant article proclaiming Damien Duff's arrival but I'm pretty excited about our new signing. He's a proven Premier League performer with international quality – and, as Chloe mentioned in the comments last night, real motivation to perform. From a Fulham point of view, it gives us a genuine left-sided option and it will be interesting to see whether it is Simon Davies or Clint Dempsey who loses out in the long run.
Duff's career is something of an interesting story. He was apparently a very talented junior footballer – and, of course, the fact that Roy Hodgson gave him his chance as a youngster at Blackburn will have helped persuade him to return to London. Duff burst onto the scene dramatically with Rovers in the 1997-98 season. He scored four league goals and his bright and purposeful running marked him out as a real rising star.
There was some talk that he might leave Ewood Park when Blackburn were relegated the following season, but he stayed loyal to Rovers and helped them gain promotion back to the Premiership. He formed a dangerous partnership in midfield with another promising youngster, David Dunn, and Rovers were promoted in second place, behind Jean Tigana's Fulham, in a memorable season. Duff went from strength to strength, scoring seven goals on his return to the top flight, and starring as Rovers won the League Cup in 2002.
Buoyed by a brilliant World Cup for the Republic of Ireland in South Korea – he started every game as the Irish came so close to reaching the quarter finals and was voted Ireland's player of the tournament – Duff returned to Blackburn with his reputation enhanced. Now a genuine world class performer, he signed a new contract with the club and shrugged off injury problems, to find the net eleven times in an impressive season. Rovers couldn't hold off the attentions of the bigger clubs for much longer and Duff became one of the first big money signings of the Roman Abramovich era, joining Chelsea for £17m.
Not your stereotypical football, it took Duff a few days of quiet contemplation to decide that he wanted to swap his quiet lifestyle in the Ribble Valley for the bright lights of London. This ties in with the stories I've heard that, unlike some of his fellow players, when Duff had time off from club or international duty he would eschew the parties and clubs and return to his hometown to play some quiet games of football with his friends. Chris Hughton, Duff's current manager at Newcastle, has already lauded his attitude and work ethic today, which makes him sound like just the kind of playe Roy is looking for.
Duff's first season at Stamford Bridge was disrupted by injury but he still made his mark at Chelsea. He scored a brilliant goal past his international team-mate Shay Given as they thumped Newcastle 5-0 and then managed an even better effort against Lazio in the Champions' League. Although the season ended in disappointment for Chelsea – as they crashed out of the Champions' League at the semi-final stage and faded away badly in the title race – Duff had enjoyed a pretty successful first year with the club.
It was thought that the arrival of Arjen Robben and flambuoyant new manager Jose Mourinho would scupper Duff's chances of buidling on his strong start. Despite an injury to Chelsea's new Dutch winger, Duff had to wait for an opportunity to prove his worth as Mourinho opted for a narrower, defensively-focussed formation. When the Irishman did get his chance, he scored ten goals – including a vital one in the European defeat of Barcelona – and helped the Blues win the League Cup and the league title, all from the unfamiliar position of right wing, forming a devastating partnership with Robben that frightened Premier League full-backs to death.
Duff had established himself as a regular in the Chelsea side so it was something of surprise when he agreed a £5m move to Newcastle in July 2006. He started brightly at St. James' Park, opening his account in a 2-0 win at West Ham in September, but his absence due to a knee injury coincided with a bad run of form for the club. His brief return was cruelly cut short by what Sam Allardyce called a 'career threatening' ankle injury. Duff fought back to return to the first team and marked Kevin Keegan's return as Newcastle boss with the first goal in a 4-1  FA Cup win over Stoke.
As turmoil gripped St. James' Park with Keegan's acrimonious departure and the surprise appointment of former Wimbledon manager Joe Kinnear, Duff made some vital contributions – scoring at Goodison Park to secure a 2-2 for the Magpies and then adding the winning goal against Tottenham before Christmas. Due to Nerwcastle's seemingly always-lengthy injury list, Duff was forced to play most of the closing stages of the season as an emergency left back. He will, of course, be harshly remembered as the scorer of the unfortunate own goal at Aston Villa that sent Newcastle down – but he showed much more passion and commitment than many of his well-paid teammates.
It had looked as though Duff was set to stay on Tyneside as he pledged his future to the club in the aftermath of their relegation and even scored their equaliser at West Brom on the opening day of the season. The lure of Premier League football proved too great to resist, however, and after undergoing a strenuous medical this weekend, he was confirmed as a Fulham player this afternoon.
Who he will replace in the Fulham side is a matter for debate. In the short term, he will almost certainly come in for the ineffective Zoltan Gera, who looks completely devoid of confidence at the moment, and will probably energise the side with his natural width and pace down the left. Some fans have speculated that you could accomodate both Dempsey and Davies by moving the American into a more central role but I feel that could leave us too lightweight in the tackle in a crucial area.
If Hodgson could restore Duff to full form of fitness, Bobby Zamora and Andy Johnson might get the type of service from wide areas that they thrive upon. These could be very exciting times at the Cottage.