Those of you who are Facebook friends with Diomansy Kamara might have already spotted this, but his latest status update suggests we'll know whether/where he's going tomorrow. It roughly translates as:
Tomorrow final decision on my future. Stay tuned. Thank you for all your messages and advice. God bless you.
That could mean that he's mulling over the prospect of joining Bordeaux as has been widely reported this week. I'd be disappointed if he leaves, but all not that surprised as Roy clearly thinks he's a little bit too unpredictable for his system.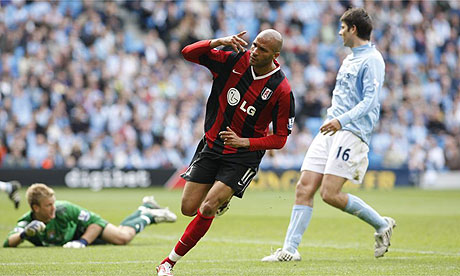 If he has played his last game for Fulham, we'll already remember how he changed the momentum of that game at Manchester City from the substitutes bench and breathed new life into our survival battle at the perfect moment. At a stroke, he'd paid back the hefty transfer fee paid by Lawrie Sanchez. There was that unbelievable bicycle kick against Spurs, which was so exhilirating and proved crucial in the final analysis.
He looked very sharp after recovering from that horrible anterior cruciate ligament injury that he suffered last summer and played a key role in our seventh place finish that secured European football. That goal at Newcastle that put us within touching distance of the Europa League will live long in the memory.