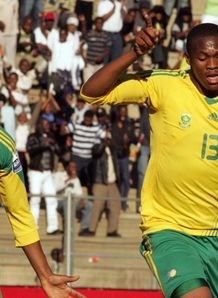 All Kagiso Dikgacoi wants for Christmas is a work permit.
Who and why you might ask? Well, Dikgacoi is a midfielder with the South African side Golden Arrows. He has captained the club for a season and a half having started his career at the Bloemfontein Young Tigers. Last season he scored four goals in 23 appearances. Dikgacoi, 24, has eighteen caps for his country and was part of his nation's squad at the African Nations Cup last year. The less said about that the better as South Africa went home after the group stages, finishing bottom of their group with two points.
Apparently, he spent some time at Fulham on trial in the summer and was watched by our scouts during the international friendly between the South Africans and Australia. This somewhat contradicts Roy Hodgson's recent discussion with an Australian TV station, but Fulham's contract offer was rendered meaningless once their application for a work permit was turned down.
Fulham have applied again for a conditional visa to be issued and Dikgacoi seems very happy.
Fulham are in the process of applying for a work permit for me and I am keeping my fingers crossed that everything will go according to plan.

It has always been a dream of mine to ply my trade in Europe and I hope that I do get my opportunity in the English Premiership.

There has been interest from other teams in Europe who want me to come for trials, but I would prefer joining Fulham who know me and are aware what I am capable of after spending some time with them in July.

And with them trying to get me a work permit is proof that they are really interested in my services.
Dikgacoi's agent seems confident the deal will go through as well.
They were impressed with Dikgacoi when he went over there for trials and I expect everything to be sorted out in the next week or so. Dikgacoi is one of those South African players who can cut it at the highest level and I don't expect him to have problems in England if he finally goes over there.
You would expect an agent to say that about his client and, whilst he seems a promising prospect, should we sign him I'd expect a long period of acclimatisation to the English game and some detailed coaching from Roy.
Watch this space.