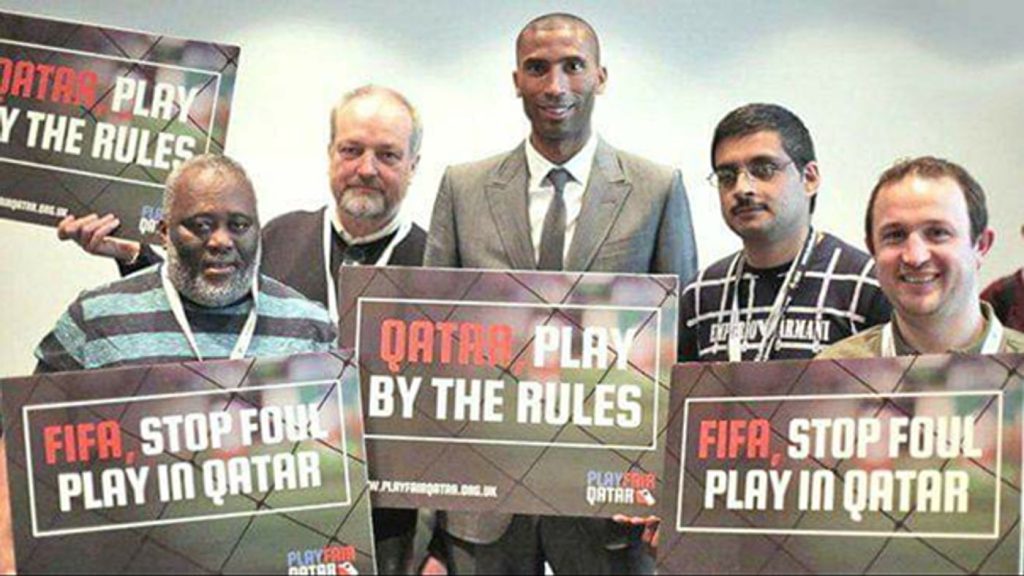 I first met Abdes Ouaddoh when I was sixteen. I was part of a young disabled supporters' trip to Motspur Park, organised by former Fulham stalwarts Gary Mulcahey and Emma Taylor. For a teenager who was already an avid student of the game, the chance to watch Jean Tigana's training session was akin to Christmas coming early. I probably lingered by the training pitches far too long, but my group's reward was to have a kickaround with Ouaddoh, John Collins and Luis Boa Morte. All three have been kind enough to keep in touch since then – a mark of the men they are, given that I was just a kid with far too much to say for himself.
Ouaddoh, a ball-playing centre half who fell in love with England during his trips to London as a student, outlined his enduring love for Fulham during Thursday night's Fulham Supporters' Trust AGM. The Moroccan international turned down the likes of Arsenal, where Arsene Wenger wanted him to continue his eye-catching development at Nancy in the Gunners' reserves, Monaco and Kaiserslautern to come to Craven Cottage. Tigana, an icon in French football, told the-then 22 year-old defender that he would have to work for a place in the first team, but the prospect of playing in the Premiership proved irresistible.
Ouaddoh only made 36 first-team appearances – with most of those coming at right back as Fulham came to terms with the departure of Steve Finnan – but he made an impression as an elegant defender. One of his first acts on his debut was to cleanly challenge Ruud van Nistelrooy on the day that the Cottagers came so close to shocking the treble winners at Old Trafford and he was part of a side that won the InterToto Cup, sparking Fulham's first continental campaign – which reached the third round. Ouaddoh learned more than just how to mix it in English football from the likes of Luis Boa Morte, Louis Saha, Alain Goma, Kit Symons, Andy Melville and company – he credits his time in SW6 with helping him grow into the man he is today.
That's where his advocacy at the Trust's online AGM comes in. Ouaddoh was still a Fulham player when he captained Morocco to the final of the 2004 African Cup of Nations in Tunisia – with his performances persuading Rennes to turn a loan spell into a permanent move. He went to feature in the Champions' League for Olympiacos before thirst for a new challenge took him to Qatar. He was initially intrigued by combining a desire to coach with helping the Qatar Stars League establish itself, but his dream turned to a nightmare as he became a prisoner of the Qatari state after contractual disputes led to his family being turfed out of their accomodation, his car being seized and his human rights eroded. Ouaddoh and his family only escaped after he bravely spoke of the suffocation of the kafala system to the BBC: such was his terror he gripped the hand of his wife for dear life as the plane taking him out of Qatar revved its engine on the tarmac.
Many footballers would have consigned this experience to their past, counted their lucky stars and moved quietly on with their lives. Not Ouaddoh. He worked with an international campaign of trade unions to protest FIFA's decision to allow Qatar to host the World Cup and, when a push for a re-vote proved unsuccessful, spoke around Europe and the world about the need to improve working conditions and trade union rights in the country. In a wide-ranging discussion with Fulham fans last week, following an illuminating interview in the Times last Saturday, Ouaddoh said a boycott at this late stage wouldn't help bring back the 5,000 lives lost and that captains and coaches should speak about the people who died building the stadia during the tournament.
Ouaddoh was just as engaging when discussing his hopes for Morocco at the finals. He passionately denounced the decision to dispense with the services of Vahid Halilhodži? only months before the tournament that the Bosnian had qualified the national side for following a disappointing African Nations Cup campaign, where the coach was undermined by the unprofessionalism of Hakim Ziyech. He implored the recently-installed Walid Regragui to ditch the defensive tactics that saw him secure African Champions' League glory with Wydad and allow Morocco's attacking flair to light up the finals instead.
Ouaddoh's own coaching career has taken him to Benin, where he is in charge of ESAE FC Benin, having spent six years coaching in the Platini Academy and taking charge of the youth set-up at his first club, Nancy. In the light of Gianni Infantino's gaslighting over the weekend and the lack of backbone displayed by football's decision makers and celebrities, Ouaddoh's passion for people and belief in the ability of our game to still bring people together is inspiring. We need more of it.